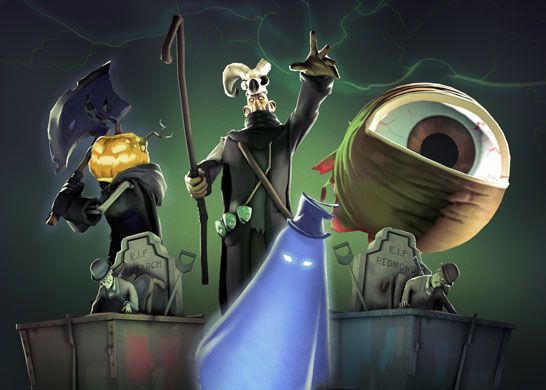 It's been a whole year since you guys played a Team Fortress Halloween map. If we threw you into the 900-mile-an-hour hellride we've got planned this year without warming you up first, you'd essentially be going from an idle state of terrorlessness to a shrieking nightmare of solid 100% terror almost instantly. It would be the equivalent of going from seeing zero skeletons to seeing a thousand skeletons at once. Are your eyes deceiving you? That's when you reach up to your eyes and realize... they are also skeletons! AWOOOOO!

A shock to the system like that wouldn't just kill you. It would make you crap your pants (not fatal), turn your hair white (still okay), and make your heart beat so fast it would blow up your ribcage (now you're dead).

Luckily, you can now play previous years' Halloween spectaculars to get your shock tolerance up in advance of the update. Simply boot up the game, hop into multiplayer and quickplay any of our past five Scream Fortress updates. If you've missed out on previous Team Fortress Halloweens, or are new to TF2 in general, this is a perfect time to catch up.

Also, remember to LOOK WHAT'S IN YOUR DRIVEWAY IT IS THE WOLFMAN'S CAR! See? That was so scary it almost put you in a coma. Get practicing.
- Scream Fortress Classic begins!

- In preparation for Scream Fortress 2014 we've enabled all previous Halloween events
- Fixed The Larval Lid not using the correct Blue team material
tl;dr get to farming those old spells and costume pieces